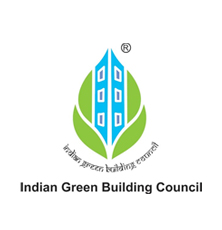 Jakson Group is the founding member of the Indian Green Building Council, actively involved in promoting the Green Building movement in India. Our head office in Noida is a Platinum-rated Green Building. We are committed to conserve the precious resources of our planet for a sustainable future.
Our conservation initiative begins right from the construction phase of the hotel.
We are proud to announce that we are the first Platinum rated 3 star hotel in India classified by the Indian Green Building Council. In the effort to earn the Platinum status, we made sure that the hotel would never be a burden on Mother Earth and her recourses. We installed a 74KW solar terrace top array making JIP the first hotel in India to do so. We added an STP so as never to send human, kitchen and chemical waste into the gutters and streams. To follow through on environmental responsibility a rain harvesting system was installed. Double glaze windows, LED lightings, motion sensors and a bio gas plant are all proudly part of our DNA. We are proud to see 27 varieties of fruits, an entire organic vegetable farm and countless flowering and non flowering trees. We also closely work with local farmers and women self-help groups to help the local economy and increase the organic food print of our menu.
Finally and never to be forgotten is the family of employees that we have created from the local area and those that have travelled far to be part of our Green vision. They are the ones that carry the Green message through the Phaltan society by engaging the city in Swatch Bharat campaigns, Green-a-thons and adopting schools to conduct classes that align with the Green message..
We invite you all to come and experience our 'Green Thumb' service and relax in your temporary residence, there is so much more to discover.
We have installed solar panels to reduce the pressure on the mainpower grid and produce energy through the cleanest source.Our solar panels have the capacity to generate 74 KW of energy per day.
Renewable Energy:
We have recently installed a 350 KW Solar Plant that generates 1400 units per day bringing down our electricity costs by 30%.
Water Conservation:
The hotel is equipped with a Sewage Treatment Plant that recycles waste water, reused for landscaping & flushing reducing a significant level of water consumption.
Energy Efficiency:
Implementing a HVAC system through effective shading, cooling, energy efficient and ecofriendly chillers (non CFC gas), lighting and smart building automation. The VRV air-conditioning for temperature control, reduces electricity usage. Variable frequency drives installed save power consumption during off peak load hours. 90 % of the space is naturally lit, reducing the need for artificial lighting.
Environment Friendly Construction:
80% of the building material has been sourced locally using recycled materials reducing the environmental impact of transportation. The building has an energy-efficient envelope including hollow blocks in the external walls, window-wall ratio limited to 28%, double glazed glass units & mosaic roof coating that helps reduce surface temperatures.
Zero Waste Initiative:
Waste is segregated before disposal or reuse. Non-toxic and non-carcinogenic green seal certified chemicals are used for regular Housekeeping/Laundry.
Reduce Use of Plastic:
In our endeavor to make all Jakson Hotels plastic free, at Jakson Inns we have reduced plastic items to zero. We have eliminated mineral water bottles from rooms & now provide purified drinking water. Bottled water is availble as a sale item & guests are encouraged to avoid its use.
Organic Vegetable Garden:
Hotel has organic farm for growing vegetables. Most herbs grown are used in preparation of guest meals. We have separate waste storage area for disposing off unused chemicals and their containers.
Fuel and Energy Conservation:
We provide employees a shuttle service to reduce the use of personal vehicles. This in turn helps in reducing air pollution.
Tree Plantation
Our main motive is to plant more and more Trees around the Jakson Inns. So we all have fresh and clear air to breath.
Go Green Go Cycling- Pollution Control Awareness Drive
We had this drive to spread awareness in the society on "Saving natural resources that are contributing to Global Warming".
Green Building Week:
Poster Competition:
Kids from BhausahebDaitankar school and from BHAWANA –our day care center participated in poster competition which highlighted messages on "Save Nature".
Walkathon:
Embracing a fitter and cleaner lifestyle, Walkathon was organized to raise ones voice in creating a cleaner city to live , be fit, healthy and happy.
Art from Waste:
Competitions are organized to convert waste materials or useless products into new materials or products of better quality or for better environmental value.
Swachh Bharat Abhiyan:
Cleaning drives around Phaltan are organised to educate locals on "Importance of Hygiene and cleaning".
Teaching at School:
Have adopted a residential school & are constantly educating them on environment friendly practices through our Executives.