Uncharted places that are not on the map as a designated tourist destination often show the potential of a unique experience. That is exactly what Jakson Inns has achieved for the almost forgotten Phaltan, located 110 kms from Pune.
A highway ride is common for Mumbaikars, usual destinations being Pune, Kaas Pathar, Lonavala, Goa, Ratnagiri coastal lines and more. On a roadtrip to nowhere in particular, Jakson Inns just happened to us for a stopover initially. Phaltan is one of those places where you may stop for a night before continuing your journey, but it gives you a neat, functional and enjoyable itinerary. Variety of experiences curated together by the hotel entices you to stay back.
What started as a journey in search of an offbeat experience, turned out to be a complete weekend getaway at a highway side hotel. May sound odd, but you need to read this article in full to know how The Moonchasers found a weekend, worthy of sharing with you as a recommendation.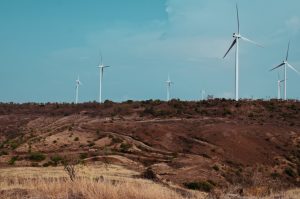 Satara district marks a historically and economically significant side of Maharashtra, also known for its forts, waterfalls and religious festivals. Lands that host major industrial facilities also caters to 60% of the states sugar production, thanks to sugarcane farming all around the plateaus. Only about a four hour drive from Mumbai, Phaltan is an amalgamation of sustainable energy with agriculture and history. From solar farms and windmills powering an entire industrial belt and a 3 star hotel, Jakson Hospitality brings a piece of ecotourism on its very premises spanning 6 acres.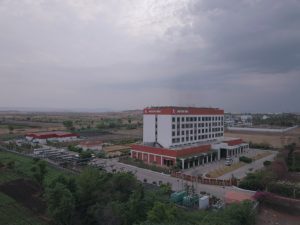 The property is a proud LEED Platinum Rated Building, harnessing its energy from natural resources. The hotel has 69 deluxe rooms, 4 suites, a contemporary bar, a vibrant multicuisine restaurant and a luxury spa. It also has a gorgeous pool and basketball court, and bicycles (We made good use of it for a midnight track race) suited for families. A full service gym is also open for guests.
Apart from providing a wholesome Malvani cuisine, the staff ensures you get a taste of the local culture. We were taken to a beautiful windmill farm to watch sunset over the plateaus sipping on an exquisite Sauvignon on the first day.  The giant machines start screeching and creaking to pick up speed with the evening breeze, adding a bit of charm to the whole setting. We also made a new friend at the table top!
A barbecue night followed on the hotel grounds, prepared by the chefs on the spot. They went an extra mile to prepare a giant Khakhra for us (Baked thin crackers made of mat bean and wheat flour). Sumptuous food calls for a good end to an amazing day and we had a very comfortable room, again carefully and professionally serviced to get a good night's sleep.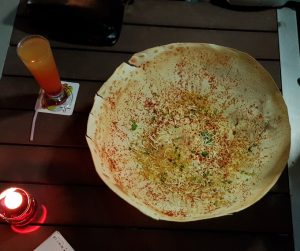 Breakfast awaited us by the poolside on the second day. After gorging on mango shakes and masala omelettes, our destination was Thosegad Waterfalls. Maharashtra comes alive with the monsoon and this waterfall too shows its true beauty ripe with the rain water. However we had a fun time walking up to the lake and made a mental note of coming back here again in a couple of months as the rains intensify.
Stories of emperors, conquerors and rulers fascinate the reader. But what happens when you get to walk into the homes once inhabited by the characters from the pages of history books! An experience curated only by Jakson Inns that needs a special permission, made the highlight of the trip.
Phaltan is known in history for being home to Sai Bai, Shivaji's first wife as she hailed from this once prosperous taluka. Manmohan Rajwada, was named after Mudhoji Manmohan, who ruled the Phaltan State between 1860 to 1916. It was once the maternal home of Sambhaji Maharaj, son of the founder of the Maratha Empire.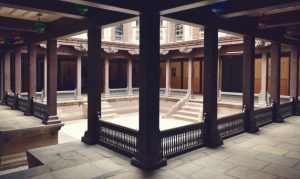 An architectural delight, the Rajwada palace compound consists of the main residential building, an ancient Ram Mandir, spacious courtyards and long halls called chowks. The interiors reflect rich heritage design with intricate hand-carved wood work in the columns and arches. The rich colour palette in the paintings and tapestries across the palace exude a royal yet contemporary selection of art. All rooms open out onto a central courtyard, or a chowk, demonstrating a common feature of period Indian architecture, allowing air circulation for hot summers. It was an obvious delight for J for his love of symmetry and marvellous architecture. On the other hand, I was marvelling at it's spaciousness and rich historic elegance which oozes out with every step you take within the premises. Every turn opens up to a corridor full of footprints of the Royal family of Phaltan.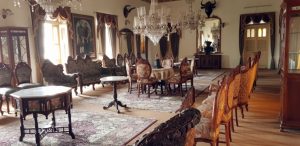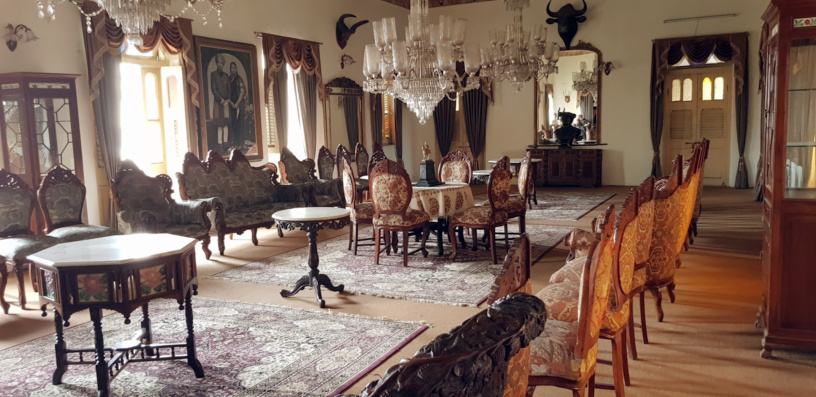 All of this, coupled with a Maharashtrian chulha made lunch and a pomegranate plucking session where you can taste the sweetest fruits right on the field, we feel Jakson Inns has successfully merged the business of hospitality to boost the local economy as well. To understand the actual potential of rural tourism, eco tourism in maharashtra and farmland visits, it is a great way to spend a weekend here instead of just stopping over. The richness of experience makes itself a desirable destination. Where else can you get a private sunset sipping wine with your loved one, walk about vast pomegranate fields and sugarcane farms, go into the very rooms where once queens lived and feel the wind in your hair ?
This place is an inspiration for travellers seeking to do something new, know something more about a place and have a great time. In fact, MTDC has Phaltan listed as a heritage and eco-tourism destination.  Taste the perfect contemporary bohemian lifestyle with a touch of history at Phaltan. At the same time, enjoy sustainable hospitality with a comfortable stay for your next weekend getaway from Mumbai or Pune.