With the Christmas falling on a Monday this 2017, eroding those Monday blues away, and the New Years doing the same trick with its first day of 2018, it's time to use these two golden opportunities and plan a festive weekend getaway, right away.
It's time to stash in the kitchen cabinet your worries about preparing the festive feast, to stuff your suitcases instead of turkeys, and to use your car to drive away from the city instead of driving in to the grocers.
For the jingle bells are ringing, and they are ringing so loud. It's time to celebrate, and it's time to head out.
Now, where should not be your worry at all, because we have got you sorted with a feast for all.
Jakson Inns, one of the best hotels in Phaltan, Maharashtra is celebrating Christmas and New Year's grandly with a perfect plan in place.
Picking the former, for it's Christmas and we love Santa, Jakson Inns has organized a special stay.
Served in that stay is a lush Christmas dinner, so mouthwatering and full of flavors that you would wish upon having a Christmas every week for the rest of your life.
And who knows, perhaps Santa might be riding in his one-horse open sleigh right across Jakson Inns.
Putting two and two together, it would certainly be fun having Christmas every week for the rest of our lives. Do we hear a Yay?
That especially when something like the following is expected to happen on Christmas.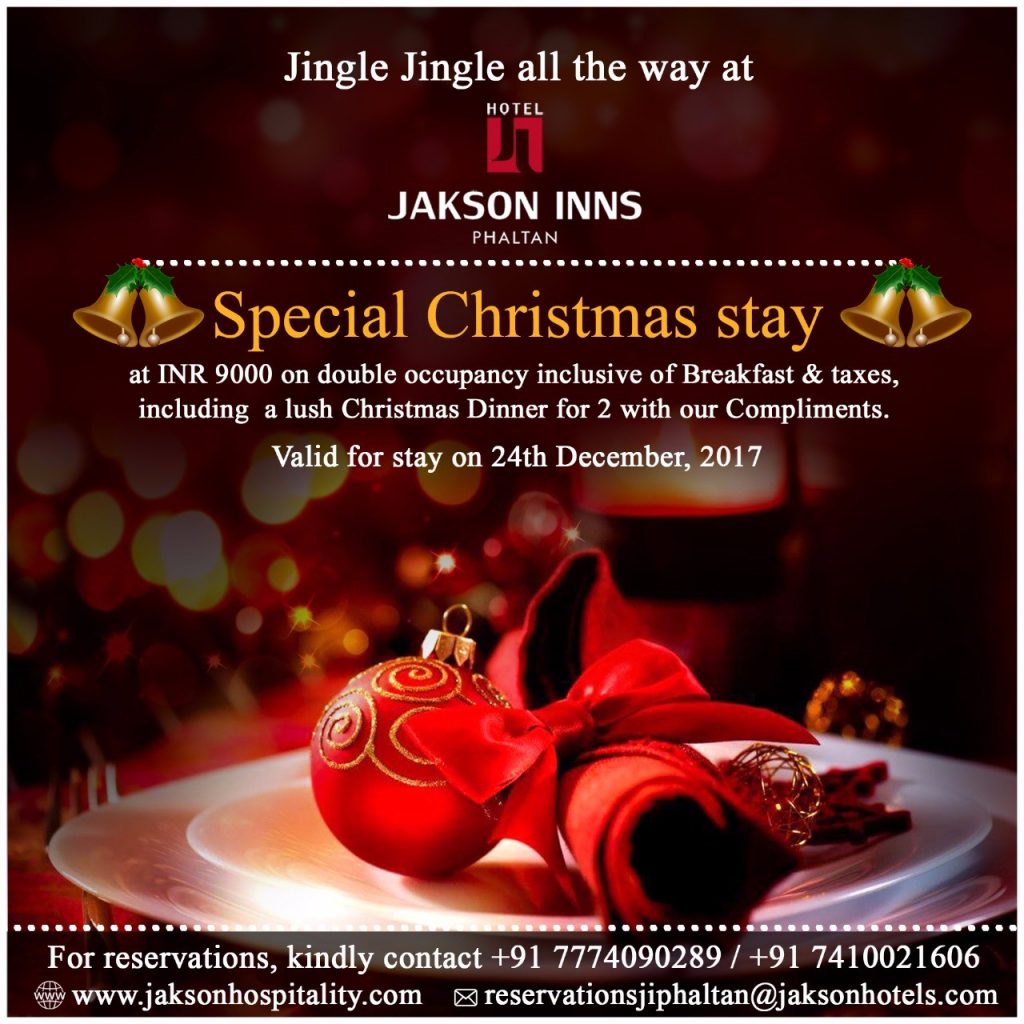 Following Christmas closely is a beautiful day with a brilliant hidden message – that everything leaving us is making way for something new. This time the way is pleasantly being made for 2018. How pleasantly you ask? Exuberant, sure is our reply.
Jakson Inns, a wonderful place for a perfect weekend getaway near Pune, is hosting this New Year's Eve exuberantly, over a grand New Year Party with a live DJ and an oh-so-delicious gala dinner and unlimited alcoholic beverages on the eve of 31st December this year.
Can't wait to learn all about it? Well, we can't wait to share all about it.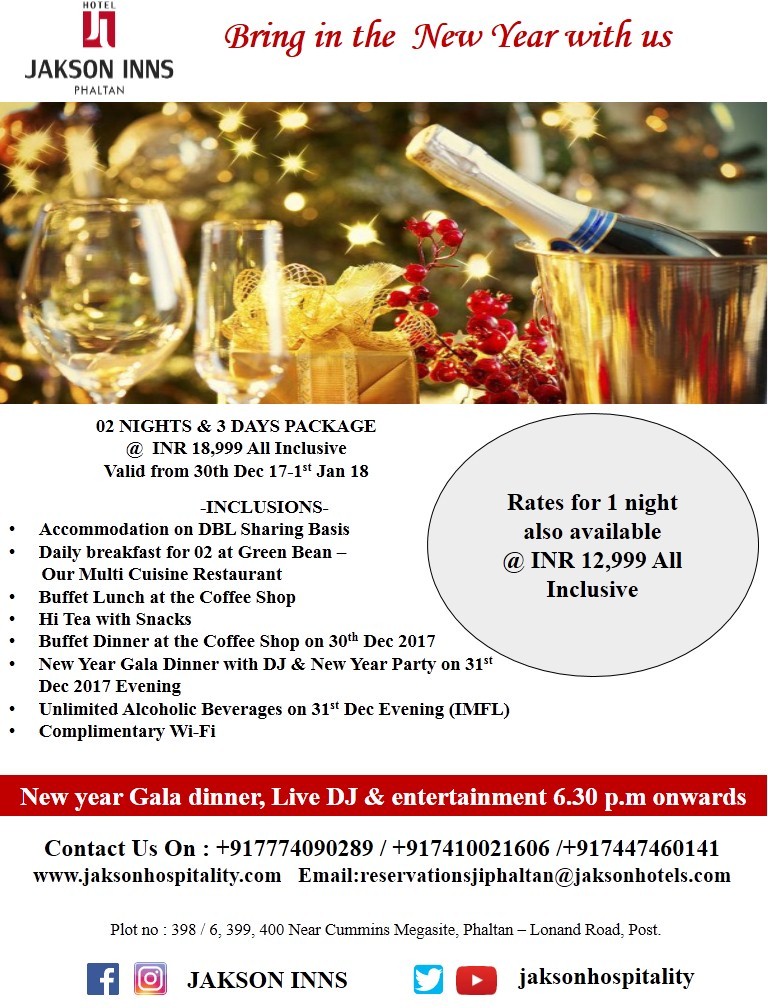 Isn't that cool and so much fun?
Well, you know what else is fun? All these fun or serene facilities, new-age amenities, topped with warm hospitality that you can enjoy at Jakson Inns. And all the mind-blowing places that you can visit during this cool-ace weekend getaway near Mumbai.
Talking about the fun activities at Jakson Inns, for celebrations must begin with fun, you have this swimming pool surrounded by quaint greens and is full of clear blue water, making it perfect for a game of pool volley ball.
In other case, you can simply sit and relax by the poolside, enjoying the calm that comes with it, sipping your favorite beverages while nibbling on your favorite snacks.
For the fitness forward fellas among us, there's a fully equipped GYM, too.
And a recreation center, for when you are in a playful mood, here you can choose to play a game of tennis and beat your mate, or play chess, or carom for that matter. Or simply relax and catch a movie from our vast movie collection.
Then, when in the outdoorsy mood, grab a complimentary cycle and enjoy a ride down the lane, celebrating the festive days and your gleeful mood.
Now that we are already talking outdoors, why not take a sneak peek into the wonderful places we have around here in close proximity to Jakson Inns.
Since it's Christmas we are discussing, why not begin the outdoor drive with Vineyards? And a glass of wine in those vineyards near Mumbai and Jakson Inns in Phaltan. You may choose to taste the wine in the Four Seasons Vineyard, which is close to our hotel near Baramati as well.
There, there you also have Fratelli Vineyard, located at just sixty-six kilometers away from Phaltan.
For the religious folks who would prefer beginning 2018, or ending 2017, with the divine blessings, you have Jabreshwar Mandir and Jejuri temple in close proximity, too.
And so is waterfall, that is the DhumalWadi waterfall. And so is a dam, that is the Dhoom Dam. And so are forts, namely Sajjangarh Fort and Varugad fort. And so are windmills – the Chakelwadi windmills.
What a perfect way to get away from traffic crated city celebrations, and into the serene, soothing, and still swanky Christmas and New Year's celebrations.
Jakson Inns is where fun is cladded in green surroundings, flavor in delectable cuisines, swag in songful Live DJ Night, and rad in unlimited alcoholic beverages.
Hear that? That's your mind singing jingle bells, and your heart raving to the beats of discs, wishing for Santa to sleigh it tomorrow and the next year to begin the day after.
Oh, what fun it is to ride to Jakson Inns this Christmas. And this Happy New Year!