To travel is to push open the gates of our minds and tread farther away from monotony and boredom and social taboos and societal pressures.
To travel is to run towards new experiences, adventures, and most importantly, explorations.
While many of these come tangibly, it is those intangible ones that ultimately become our true Santas for one simple reason, and that is, they come bearing gifts.
Gift of new gained wisdom.
Gift of self-revelation.
Gift of new-found strength, something that we women dearly and direly need. Don't you agree?
Despite tech revolutions, innovations, altered mindsets, reformed statuses, rehabilitated demographics, we women still haven't yet received that one thing crucial for survival: that thing called freedom.
Then again, somethings exist, and somethings, well somethings are created.
Your freedom is yours to create.
Your experiences are yours to live.
And your travel? It's yours to plan and schedule.
Any and every destination is, therefore, yours to reach.
Talking about destinations now, we've got a great news for women and girls living in Mumbai and Pune.
What's the great news, you ask?
Your excitement is palpable. And the great news is elating.
It is simple and simply brilliant. It is Phaltan – a destination merely a couple hours away from both Mumbai and Pune.
Phaltan is also the perfect place for first-time solo women travelers to take a baby step in a new direction. Baby-step we call it because its novice and yet, prepared to enjoy every wonderful thing coming in its way. And in its way, are some incredible things lined up to be explored and experienced.
Was that the sound of a freshly popped up thought that we heard?
There, you are thinking about the one crucial thing for 'women's' survival, at least per the societal norms.
Safety. Isn't it what you are and have been thinking about all this while.
Well then, before anything else, let's first clear this obstacle out.
Grand Reason # 1
SAFETY
There's no doubt about the fact that Phaltan is a safe place to walk into, especially when considering a literacy rate of seventy-five percent. That's way too cool when we come to think of the national average literacy rate, which is 59.4% only.
But wait, there's something cooler. Men's literacy rate here at Phaltan is higher than women at eighty percent, about ten percent more than that of women's.
There's more to Phaltan safeguarding your travel than just literacy rate.
It is Phaltan's culture. Being an ancient city, reflecting in literary sources as one where Shree Ram, Laxman and Seeta spent a fraction of their vanvaas (stay in the wilderness), makes it a city rich in cultural heritage, both to marvel at and explore.
There are plenty other reasons why Phaltan is a safe place for you travel to, but the prime factor ensuring your safety is Jakson Inns.
Why, you ask? Good to see you asking questions. That postulates your interest in the conversation and that peaks our interest too.
Coming back to safety, Jakson Inns commends and celebrates women who dare to travel solo, and considers it a significant part of its responsibility to look after their safety and ensure a safe stay.
Before you write them off as just words look at this –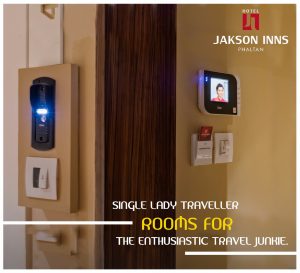 This picture presents a spatially small but relevantly huge section of Jakson Inns' special dedication to, and amenity for, women solo travelers – that is the Single Lady Traveler Room.
Being equipped with a camera and speaker, the Single Lady Traveler Room helps a women solo traveler in more ways than one.
First, the camera and screen helps the solo women traveler residing in with live feed of the person knocking at the door or pressing the doorbell.
Second, the speaker facilitates an easy communication with the person behind the doors through a microphone, thereby removing the hassle of opening the door if not needed or desired.
That is not all. For women solo travelers, we at Jakson Inns offer feel-as-free-as-at-home amenities like nail filer and sewing kit.
On top of that, we ensure that it is only female staff that serves you, be it for housekeeping or room service, courtesy the female ratio at Jakson Inns Phaltan which stands at 25%.
There you see, travelling solo for you as a woman can be as pleasant and as safe as the other gender, and in India as in any other country.
When safety's sorted, let's jump to the other reason for travelling solo to Phaltan.
Grand Reason #2
SIGHT
Here's the part that would intrigue, fascinate, and enthrall you the most.
For here's the bit where your questions ranging between 'what's so fun about Phaltan' and 'why Phaltan' will find answers exactly a nano-second from now.
Windmills And Vineyards
Two perfect places to be at – windmills and vineyards. Both are to walk in and around like a free bird. Both are to brag about on social media through check-ins and pictures.
The Chakelwadi windmill near Phaltan is the most magical place you can explore near Mumbai. Though its Asia's largest windmill farm, but it's the scenic drive through mountains and farm that takes the crown away.
Now to speak of Four Seasons, the vineyards near Mumbai will simply make your day. Both this very day, and the day you'll travel to this almost-a-grapes-town-of-its-own vineyard.
How about a quick bonus?
Yay, you say. Then, here it goes. You got yourself another cool vineyard, aka the Fratelli Vineyard. For those days, when you are feeling extra breezy and name wine tasting the game of the day.
Waterfall
Who doesn't love the sound of flowing water? Yes, dear one, we know you do, and that we all do. And hence, we mention the Dhumalwadi waterfall to you.
In just twenty-seven kilometers worth of a distance from your Single Lady Traveler Room at Jakson Inns, you would be able to walk through the greens, reveling in the sound and sight of flowing water.
Then, how about opening that book you have very dejectedly kept aside for later? Or indulging in your creative hobbies back again?
Others
If the previous two were the trailer then this will be the whole picture, well almost.
There's myriad other things to do and places to visit in and around Phaltan. To name a few, here you go. Trekking in Satara. Fort hunting. Stepping on the spiritual stones. A little royal rendezvous.
Spa and Yoga
As enthralling, exciting, engaging, endearing and alluring as the above activities and visits sound and are, they can sure be tiring.
So, how about relaxing and having a good night's sleep in your Single Lady Traveler Room and then waking up to a serene ambience, followed by a reviving yoga and a rejuvenating spa?
Sounds like a vacation, right? Right.
Well, now all you got to do, dear Dorothies, is to pack your bags and head straight out for a weekend getaway, or should we say, your solo weekend getaway.